A vivid passion for perfumes and cultures: a professional perfumer who lives creativity in all aspects of her life – Joelle Lerioux Patris tells us her story in the new episode of the perfumed Podcast.
As a girl, she discovers perfumes and creams in her mother's beauty salon. She decides that she wants to create something beautiful, fragrant for her mother: so she goes into the knowledge of perfumes, retrieving samples and sniffing with curiosity.
The passion is so alive that when she has to choose the course of study, she begins by studying chemistry and then enrolling at ISIPCA in Versailles.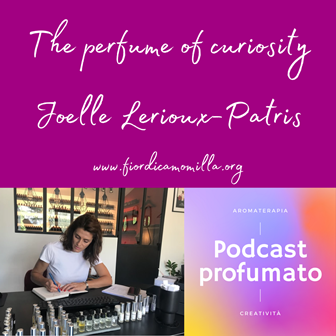 Her spirit of adventure and discovery is always alive, and so she travels and lives in Asia for a few years.
Back in Europe, she collects past experiences to found her own artistic atelier, where she prepares personalized perfumes for an international clientele.
Joelle tells us:
"I would say people look at the world around you with wonder that that's for me super important. All these beauty around us that sometimes we take for granted. And that we should discover again and again. In fact, it's the first big source of inspiration before website and before other information".
Listen to the whole interview, in English or Italian, on the Perfumed Podcast!