Coriander is a seed of a nice scented plant, which has always been known in Ayurveda for its beneficial properties. It is distilled from the Coriander seeds: essential oil scent remininds of lemon or citronella … and it's it, Coriander, which seems to have inspired the use of carnival confetti!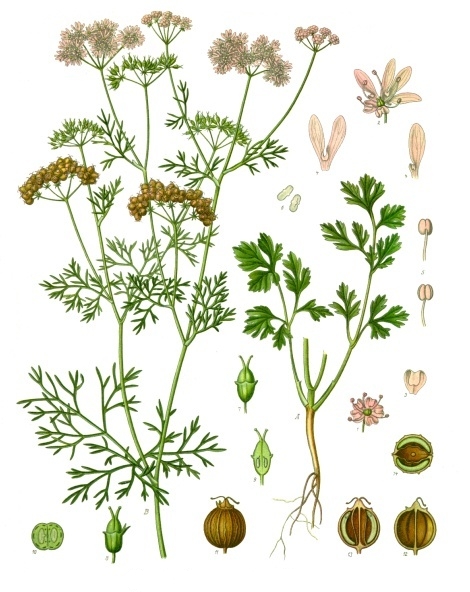 This spice (above in one of the images of Koehler) has ancient roots, and we can find traces of its use in Egypt, in Greece, and it is mentioned in the Bible, in the texts of Exodus and Numbers.
In Ayurveda it is considered pungent and bitter, and having cooling effect. It is often used for its carminative and diuretic properties.
The use of coriander infusion is useful to people with digestive problems.
The essential oil extracted from the seeds has many properties, including :
– Tonic and stimulant;
– Euphoric;
– Bactericidal;
– Analgesic;
and therefore it can be a valuable aid, diluted in a vegetable oil, for local applications in case of:
– Arthritis;
-Weak digestion, flatulence;
– Fatigue, nervous exhaustion.
There is also a distillation of the leaves of coriander, which contain different chemical components, in fact it has different properties, ie it is a sedative and anti-inflammatory. This distillation is rare to find, so when you buy the essential oil of coriander, it will always be one of the seeds.
Its olfactory profile is varied , with sweet, spicy, some reminiscent of lime background, and bitter and a "rounding" bitter sweet aspect that mitigates its power base.
Its stimulating properties for the nervous system make it suitable also in small doses in massage, and in self massage of the feet in the morning, to begin the day with energy.
Warning: it smells very intense,use it carefully!
Curry recipes contain Coriander, and there are hundreds of recipes Eastern and Middle Eastern containing it.
A book inspired by this beautiful spice is "Damascus, taste of a city" written by Marie Fadel and Rafik Scham.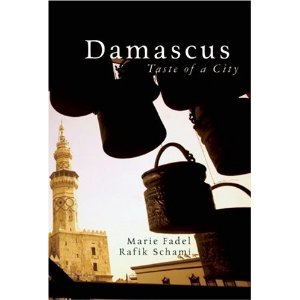 Happy reading … and happy carnival with Coriander (in Italy carnival confetti are known as "carnival corianders") !