Taking care of our hair is a pleasant and fun moment; in particular with the use of essential oils and oleolites it is possible to easily do-it-yourself at home.
For example, with rosemary oleolite you can prepare a very special hair oil. You can do it in olive oil or better yet in jojoba oil.
A recipe:
50% rosemary oil
20% avocado oil,
20% olive oil or jojoba,
10% coconut oil.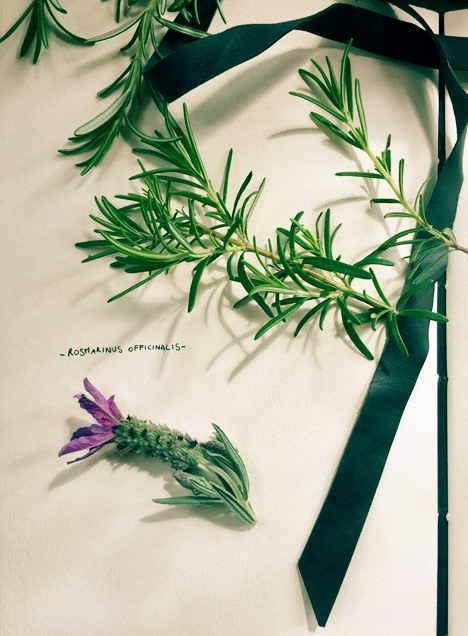 Add a few drops of essential oil, you can choose an essential oil or more than one, also according to your needs:
Lavender, revitalizes, gives shine, prevents fall and promotes natural regrowth.
Thyme, increases blood flow to the scalp and rejuvenates hair follicles, promotes hair growth by strengthening them. It is a strong oil should be used in moderation, better together with other soothing essential oils such as lavender.
Ylang ylang, ideal dry hair, gives shine, softness and body.
Lemon, desiccant and clarifier ideal for a greasy scalp.
Cedarwood, counteracts hair loss. It improves blood circulation and stimulates hair follicles, resulting in vigorous hair growth.
Sweet orange, gives brightness, revives the copper highlights and avoids split ends, enhances the natural play of light. Suitable for dry hair.
Clary sage, contributes to hair growth, regulates sebum production and controls dandruff. Useful for dry and frizzy skin and hair.

The properties of our hair oil:
prevents the loss of proteins and supplements the shortage of natural hair oils caused by exposure to frequent toxins and shampoos. Strengthens the hair promoting faster and healthier growth, seals the hair follicle, preserving its hydration. Combats dryness and the deposition of sebum on the roots. It has a regulating and balancing sebum action.
How to use:

You can make compresses of about 30 minutes or even more if you can; remember to massage gently with the fingertips and then make a mild shampoo.
Or you can add a tablespoon of hair oil in your usual shampoo as long as it is neutral and natural. Shake well so that it blends. In this way you will get a nourishing and rich shampoo.
---
This article was written by Martha Rubino from La Selva di Positano. Martha deals with natural cosmetics and hosts training courses in Selva in aromatherapy and other holistic disciplines such as yoga. https://laselvacosmetici.com/