Residential Mediterranean Aromatherapy and Cosmetic Self-Production Workshop
Aromas, Landscapes, Creative Hands
with Elena Cobez and Martha Rubino
at La Selva, Positano 30 April – 3 May

La Selva in Positano is a place for the soul where together we'll be studying essential oils, discovering nature paths and meeting people who can help us to better understand the history of this land.
In order to put this into practice, we will be doing self-production workshops, creating creams and oils with Mediterranean plants.
The residential course includes accommodation, meals, and yoga practices in the morning.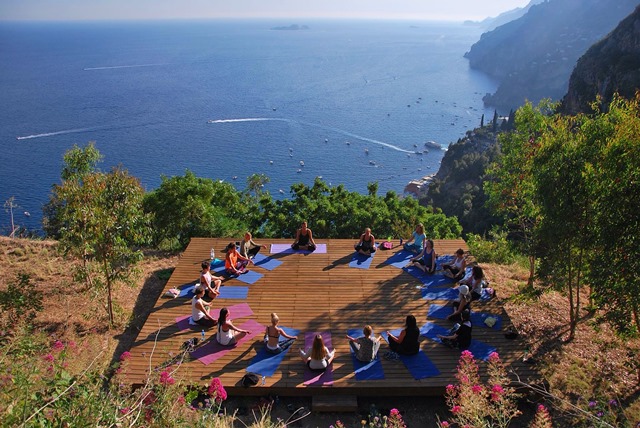 The schedule:
Thursday 30 April: Arrival at La Selva at 5pm (which means being at Positano at 4pm at the cableway – see below for arrival details).
Introduction to the residential course, to La Selva, and to the Positano landscape. Dinner and an evening of relaxation.
Friday 1 May: breakfast. 9.30am – 12.30pm lesson and experiential workshop on Mediterranean aromatherapy. References to Mediterranean medicine, plus applications of essential oils on a physical and subtle plane. Group and individual exercises of listening to the essences.
Lunch, followed by a nature walk at 3.30pm, accompanied by a local guide to get to know the Positano area and its history. Exercises focussing on the senses and listening to nature. On our return, a work group based on our thoughts about the afternoon and morning activities. Dinner.
Saturday 2 May: Breakfast. 9.30am – 12.30pm lesson and experiential workshop on the self-production of creams following Mediterranean traditions; use of botanical raw materials, vegetable oils and essential oils. A closer look at the use of essences.
Lunch. At 3.30pm a walk and meeting with the people who will tell us about the Positano area and the Amalfi Coast. Mindfulness exercise and narration about what we have gathered, as a moment of reflection and self-awareness. Dinner.
Sunday 3 May: 9.30am – 12.30pm lesson and experiential workshop on the self-production of oils following Mediterranean traditions; a closer look at the self-production of natural cosmetics. Meditation exercises surrounded by nature.
If you wish to, you can join the morning Hatha yoga lesson before breakfast with the teacher Cristiano Bacci.
*
Coordinating the workshops:
Elena Cobez: born in Trieste, currently living in Milan. She has been involved in aromatherapy and botanical perfumery for about 20 years, a field she has studied in depth since graduating in philosophy. Working in the field of olfactory research has allowed her to develop her consultancy work on the sensorial analysis of agricultural products, which values the identity, history and work of local businesses.
She deals with the development and communication of businesses which have an important connection with their surroundings.
Martha Rubino: born in Venice, she and her family own La Selva, which she has run for seventeen years. She is a professional dancer. Her lengthy training in the study of technique led to a professional career, working with international choreographers and travelling all over Europe. More recently, she has wanted to settle down and find a nest where she could build something important, and she and her husband chose this place near Positano, taking care of it and promoting it through cultural, agricultural and tourist activities.
*
Useful information
Please contact us for any detail.
La Selva can only be reached on foot via two panoramic paths.
The traditional rural house has been completely restored, respecting the natural landscape. It is situated on a hill with three hectares of citrus trees and centuries-old olive groves overlooking the Positano sea.
All meals are vegetarian and organic, with vegetables and products coming from La Selva, including the extra-virgin olive oil, honey, marmalades and fruit jams, bread and baked goods.